Learn Jiu Jitsu and Get In Amazing Shape! December Specials!
Beginner Jiu Jitsu Classes Enrolling Now!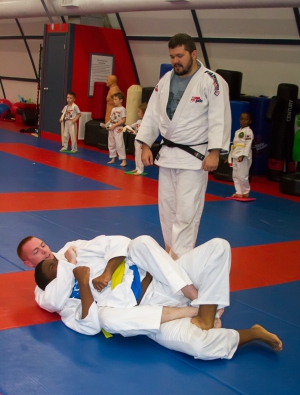 Pak's Karate Academy's Jiu Jitsu grappling program provides an excellent opportunity for those who want to learn a ground fighting style. Open to all ages 8 and older, this Jiu Jitsu program teaches the basic and advanced concepts of ground grappling, pinning joint locks and body control.
This Jiu Jitsu Grappling program is a highly effective and comprehensive system of ground defense techniques using rules of leverage. Our Grappling techniques have been developed so that almost anyone, no matter their age or ability, can do them!
Get The Highest Quality Jiu Jitsu Grappling Training In Northwest Louisiana!
Our champion Grappling instructors teach our students the basic skills to more advanced techniques in order to take your martial arts and fitness to the next level. Pak's Jiu Jitsu Grappling classes are designed by taking each student's unique skills and abilities into account so our classes work for them and allow each student to achieve their individual goals.
Pak's Jiu Jitsu Grappling program offers an amazing workout emphasizing aerobic and anaerobic conditioning making it an enjoyable workout for women, men and children regardless of athletic ability while building their confidence, discipline and concentration.
This class is an excellent precursor to our Mixed Martial Arts program and a great complement to a strong stand-up fighting program.

Why Wait? Get Started Now!
Find out more about our Jiu Jitsu Grappling classes by filling out the short form on the side of this page and get all the information you need to get started today!
Benefits of Jiu Jitsu Grappling
Exercise Your Mind & Body
Learn Valuable Self Defense Skills
Reduce Stress & Anxiety
Get In Great Shape
Our Jiu Jitsu Grappling Classes Are Located In